Dale Farm traveller loses re-homing appeal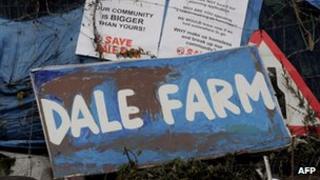 A traveller, forced to leave the illegal part of the Dale Farm travellers' site in Essex, has lost his appeal to force a council to re-home him in a caravan.
The Appeal Court heard that if John Sheridan, 34, was rehoused in a flat in Basildon it "could amount to a death sentence", according to a psychiatrist.
But judges dismissed Mr Sheridan's challenge.
They said Basildon Borough Council had not acted unreasonably.
The court also said the council had not acted unlawfully in offering the flat.
A council review panel and a county court judge had earlier also ruled against Mr Sheridan, who was living on an unauthorised traveller site at Dale Farm, near Basildon.
Last year's clearance of UK's largest illegal travellers' settlement resulted in violent clashes.