Gilberd School in Essex fined over pupil ankle break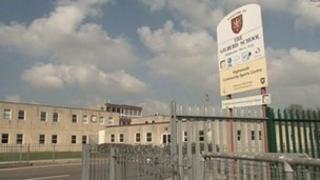 A school in Essex has been fined £9,000 after a pupil's ankle was broken by a piece of falling timber.
The Gilberd School, in Colchester, admitted a health and safety breach following the incident in March 2011.
Colchester Magistrates' Court heard 27 timber boards had been propped against a wall, with a single cone used to warn pupils of the potential danger.
Two boys were playing with the wood, which weighed 660lb (300kg), when it fell, trapping one pupil's legs.
The court was told the boy required specialist treatment in hospital after suffering problems with the blood supply to his left foot.
Outside court, Antonina Drury, of the Health and Safety Executive, said: "Children who wouldn't be expected to know what the risk was from unsupported timber were exposed to it in a area that was accessed by pupils day in, day out in normal school life."
In a statement released following the hearing, the school said the injury was an "isolated incident" at an institution with an otherwise "exemplary health and safety record".
The school was also ordered to pay costs of more than £4,000.