Harlow new town 65th anniversary celebrated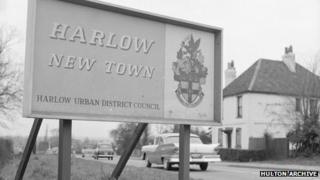 The 65th anniversary of one of the UK's first post-war new towns is being celebrated in Essex.
Harlow was designated a new town on 25 March 1947, as part of the government's scheme to relieve overcrowding in London.
The Frederick Gibberd-designed town is credited as having one of the first modern residential tower blocks and all-pedestrian shopping precinct.
Events and projects have been organised by the local council to mark the date.
These include a large "65" sculpture created by local artists on which people are being invited to write birthday messages.
Future plans include photographic exhibitions and an online archive of memories of some of the first residents of the new town.
'A different life'
Plans to build the Harlow New Town were conceived following the New Towns Act of 1946.
It was initially designed to be home for 60,000 people, many from London's East End.
Among them was Joan Harvey, who moved with her husband to the new town from Leyton in 1953.
"It was just a different life," she said.
"It was a beautiful three-bedroom house, with a bath and lavatory indoors - you couldn't believe it.
"The town was still unfinished. We used to get mechanical diggers come past the window because houses alongside us weren't finished."
Conservative MP Robert Halfon said while some parts of the town required regeneration, there was still a lot for Harlow to be proud of.
He said: "Harlow was always a place for aspiration. People came here from the East End of London to make their lives better.
"Although it's a busy town, it is like a village. There is a sense of community, there are amazing community organisations.
"We'll never be able to go back to the days of old, but as long as the community spirit remains, Harlow will continue to be a special place."