Essex pier archives sought for lottery-funded documentary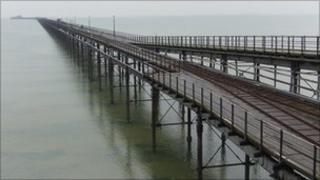 Archive film, photographs and memories of Essex piers are being sought for a lottery-funded film project.
Signals Youth Film Club in Colchester has received £20,000 from the Heritage Lottery Fund to make a documentary about the history of the attractions.
It will focus on piers in Southend, Walton and Clacton, plus Southwold in Suffolk, as well as the communities surrounding them.
It is hoped the film will be shown at venues along the Essex coast.
About 20 young people involved with the Turning Tides documentary will work with film-making experts and local museums during the making of the film.
As well as archive footage, they will also use time-lapse photography to show daily life on the piers.
Rachel Hipkiss, of the Signal Media Arts Centre charity which runs the project, said she hoped the film would provide a "fascinating glimpse" into the history of the East Anglian coastline.
"We're really interested in hearing from anyone who has a story about piers in the area," she said.
"Anyone who had something particular or unusual happen, like they were proposed to, or had their first holiday or first romance there.
"If there's stories related to their use during the war that would be really interesting."
The film is due to be completed by December.
It is the second time the charity has received Heritage Lottery funding to make a documentary, having previously made a film about the Polish community in Braintree.