Essex Wildlife Trust's nesting barn owls shown online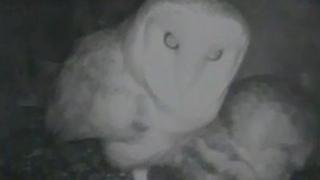 The progress of a pair of barn owls waiting for their eggs to hatch is being broadcast live on the internet by the Essex Wildlife Trust.
A webcam has been put in the owls' nest in a barn at the trust's Blue House Farm nature reserve in North Fambridge.
The first of four eggs from Packham and Strachan, named after the BBC's Springwatch presenters, are expected to hatch within the next few days.
It is the first time the trust has put a live feed from a nesting site online.
Charlie Oliver from the Essex Wildlife Trust (EWT) said a camera had been in the barn for some time, transmitting pictures to a screen on the site.
"Obviously that was just limited to people going to Blue House Farm," he said.
"We were keen to get it onto the web for lots of people to see as I think they like barn owls, which have been quite an endangered species."
The first of the four eggs was laid by Strachan on 4 April and is expected to hatch any time from from 5 May.