Essex floods: Environment Agency warnings stay in place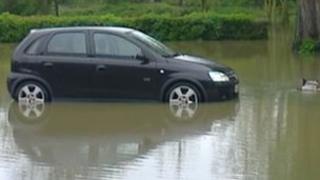 Five flood warnings issued by the Environment Agency remain in place in Essex.
Riverside properties in Colchester, Chelmsford and Maldon are still vulnerable and warnings have also been issued for towns well inland.
Warnings still cover Halstead, Lexden and Witham.
Rivers including the Chelmer, Colne and Brain are still in danger of overflowing, the agency said.
Essex Fire and Rescue crews have been busy over the past two days pumping water from homes and rescuing drivers caught in flood waters.
A spokesman said they had attended dozens of "incidents involving motorists who needed rescuing after they got themselves into difficulty by driving their cars into water".
A fire service spokesman said: "Normal cars are not designed to drive through water.
"Just 2ft of water is enough to make a car buoyant and at risk of being swept away by flowing water and more than seven or eight inches is enough to cover an exhaust pipe and leave the car stuck in flood water.
"We are urging motorists to exercise a little common sense and not drive their car into water."
Flood warnings remain in place for the River Brain from Black Notley to Witham, the River Colne from Halstead to Lexden and the River Chelmer between Chelmsford and Maldon.
Warnings are no longer in place for the River Colne from Castle Hedingham to upstream Halstead, the River Chelmer from between Great Dunmow and Chelmsford and the Bumpstead Brook at Steeple Bumpstead.