Escaped snake: Hunt for Rosie who could be in Essex tree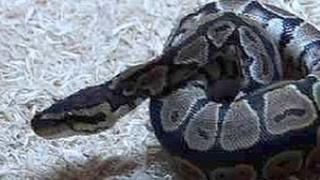 A woman in Essex has has told police she is unable to find a pet snake that lives in her home.
Rosie the Royal Python, who measures about 4ft long, is housed at the woman's address in Butlers Way, Great Yeldham.
Rosie has black and brown patches and an arrow-shaped head. She is "not aggressive".
The owner said she had thoroughly checked her home and believed Rosie might be lurking in a tree outside.