David Oakes: Double murderer had 'violent reputation'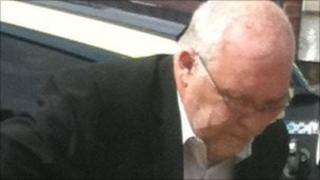 David Oakes had a reputation as a man not to get on the "wrong side of".
His violent temper and domineering personality were notorious in the Braintree area of Essex.
Neighbours had witnessed his tempestuous relationship with Christine Chambers at first hand.
He was once seen chasing her in a car as he attempted to run her over. On another occasion, he dragged the mother of four out of a house by her hair.
They were among a series of incidents that prompted Miss Chambers to apply for a non-molestation order, which was granted on 21 April 2011.
It banned former bouncer Oakes, who lived on a caravan park in Steeple, near Maldon, Essex, from coming within 100 metres (109 yards) of her road.
'Complete pyscho'
But less than two months later the 50-year-old returned to the terraced house, in Bartram Avenue, Braintree.
High on cocaine, he used a key he had not returned to let himself in.
After a degrading attack lasting hours, he shot her dead. He also murdered their two-year-old daughter, Shania.
Karen Tomlinson, 36, who lived next door, said Oakes always gave the impression of being a "very violent man".
"You could hear their arguments through the walls," she told the BBC.
"He comes across as the sort of person you wouldn't want to get on the wrong side of."
Another neighbour, who did not want to be named, said Miss Chambers appeared to have been "living in fear" in the months before her death.
"We knew she was worried about what might happen to her," the resident said.
Ian Flitt, 51, first met Oakes at the age of six when they went to school together in Witham, Essex.
They were "best friends" during their childhood and then best men at each other's weddings in the 1980s.
He said: "He has always been a big strong bloke which turned into him being a bully.
"He was handy to have on your side. He was very good at fighting. He could take three or four blokes.
"Everyone was scared of his reputation. People used to be his friend but behind his back they probably hated him.
"He is a complete psycho. Even normally strong people wouldn't stand up to him."
Violent relationship
Mr Flitt previously had a six-year relationship with Miss Chambers, during which time they had a daughter together.
The girl, who cannot be named for legal reasons, was inside the house on the night Oakes killed Miss Chambers and Shania.
Then aged 10, she managed to escape via a first floor window and raised the alarm after running to her father's house a few streets away.
Mr Flitt said he had warned his ex-partner about Oakes' reputation for violence against women but "never heard anything" about their five-year relationship.
Jurors were told Oakes and Miss Chambers met at a convenience store three days before the double murder to discuss custody arrangements for Shania.
He warned her that he would not "let anyone else be called Daddy by my daughter".
Mr Flitt said that sort of comment was typical of Oakes.
"He doesn't like anyone saying no to him - it makes him squirm," said Mr Flitt.
Prosectutors said Oakes turned a gun on himself in a failed suicide attempt after killing his ex-partner and daughter.
Oakes' defence that Miss Chambers had killed Shania was rejected by the jury. He claimed he had no recollection of how he and Miss Chambers had been shot.
Mr Flitt, who described Oakes' version of events as "ridiculous", said he could barely contain his anger at what his former friend had done.
"I absolutely hate him," he said. "I used to think I knew what hate was but I didn't. I do now."