Essex Wildlife Trust's online barn owls hatch first chick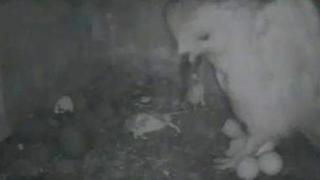 The first chick has hatched from a pair of nesting barn owls being broadcast live on the internet by the Essex Wildlife Trust.
A webcam was put in the owls' nest in a barn at the trust's Blue House Farm nature reserve in North Fambridge.
The first of four eggs from Packham and Strachan, named after the BBC's Springwatch presenters, hatched at about midday on Monday.
It is the first time the trust has put a live feed from a nesting site online.
Charlie Oliver from the Essex Wildlife Trust (EWT) said it was too early to know how many views the webcam had received.
But he added there had been plenty of interest on its social media sites.
'Supply of rodents'
"We spotted a bit of the shell the mother had discarded and pretty soon after that we saw the first chick," he said.
"Staff have been watching it, but also there's been quite a nice online community who are watching for us as well."
Mr Oliver said viewers had noticed the male owl, Packham, absent for about 48 hours at the end of last week, but said this was not unexpected.
"He'd been roosting elsewhere and hunting at night. If you look in the nest there's quite a good supply of rodents laying around," he said.
The remaining three eggs are expected to hatch in the next few days.