Maldon community radio station's future uncertain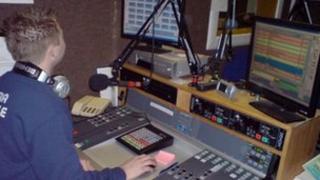 A community radio station in Essex has said it is unlikely to continue beyond November due to a lack of funds.
Saint FM has been broadcasting in its current guise across the Maldon district since 2008, to an audience of an estimated 28,000 listeners.
It said the economic climate meant it was struggling to raise its £35,000 annual budget and would not be applying for another five-year licence.
About 90 volunteers, many of school age, are involved with the station.
Saint FM broadcasts from studios at the Ormiston Rivers Academy in Burnham-on-Crouch and The Plume Arts College in Maldon.
It began as a media project at the former school, before acquiring a community station licence in 2008.
'Voice to community'
Station manager Sandra Amey-Martin said the board had decided it was not viable for them to apply for a renewal, which is due at the end of May.
"We just don't currently have the money to make a proper, sustainable budget for the next five years," she said.
"If someone could come forward and offer us five, 10, 20 thousand pounds we would go forward with our licence application. But it's looking really unlikely."
Funding for the not-for-profit station has previously come from a variety of sources, such as community groups, local schools and grants.
Mrs Amey-Martin said she was "very proud" of what the station had achieved in its five years and believed it would be a "huge loss" to the district.
"We give a voice to the community," she said.
"It's the community groups and charities, and that voice for young people who will be the biggest losers in all of this."