Steven Pienaar: Everton footballer gets £1,000 speeding fine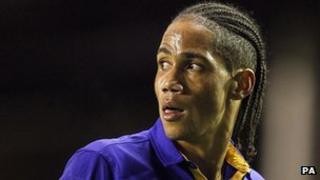 Everton footballer Steven Pienaar has been fined £1,000 and given seven points on his licence for speeding.
Pienaar, 30, of Ibbotson Lane, Liverpool, admitted two counts of speeding in Chigwell, Essex, last October.
Previous convictions from an earlier hearing, in which he was found guilty in his absence, were withdrawn.
He told Chelmsford magistrates he had not attended as he had moved home and was unaware of the earlier allegations.
Pienaar paid the fine, plus £175 in legal costs and a victim surcharge.
'Wasn't aware'
The South African midfielder was given three points on his licence after being caught in his Aston Martin DBS doing 38mph in a 30mph zone in Lambourne Road on 10 October.
He received a further four points for doing 43mph on the same road on 21 October.
His lawyer, Gwynn Lewis, said Pienaar had missed the earlier hearing in April after moving from his previous address in Theydon Road, Epping, when he was loaned from Everton to Tottenham in January.
Mr Lewis said Pienaar had not realised he needed to transfer the registration of his car to his new address.
He added mail from his previous address had not been forwarded to his new home, despite arrangements being made.
"He wasn't aware of the previous court hearing," Mr Lewis said.
"The first he heard of it was when he read press reports and then handed himself in to police in Warrington straight away."