St John Ambulance training centre opens in Halstead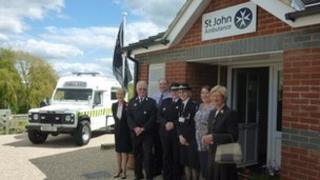 A new £271,000 St John Ambulance training centre has been opened in north Essex.
The building in Halstead is part of the charity's plans to increase first aid training to schools and hard-to-reach people in the largely rural area.
The organisation hopes to train more than 3,000 adults and 1,100 school children over the next three years.
The opening follows five years of fund-raising, which included a £96,113 grant from the Big Lottery Fund.
The centre, which boasts two training rooms, will cater for people in Halstead, Braintree, Sible Hedingham, Castle Hedingham and Gosfield.
Trainer Paul Knighton said he hoped it would make a "tremendous difference in the community".
"We hope to deliver regular training in the daytime, evening and weekends to make it as easy a possible," he said.
"The places will be free in order to remove all the possible barriers for people for not going."