Essex cannabis grower Tran Duy Hai in 60ft death fall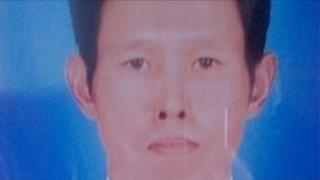 A Vietnamese man fell 60ft (18m) through a skylight to his death at a cannabis factory containing £2.4m worth of plants, an inquest has heard.
Tran Duy Hai was found by police investigating a burglary on Redhills industrial estate in South Woodham Ferrers, Essex, in December 2010.
The inquest in Chelmsford heard the 37 year old was one of four residents at the units who tended the plants.
Coroner Caroline Beasley-Murray recorded an open verdict.
The inquest heard Mr Tran had arrived illegally in the UK via the Czech Republic in 2008. He had a wife who remained in Vietnam.
He was working to pay off a family debt of $13,000 (£8,200) from acquiring a visa.
'Heavily fortified'
It heard he was disturbed by burglars in the early hours of 9 December 2010 while on the phone to his sister-in-law, who he told "someone is coming, I've got to go".
At just after midday police investigating the break-in found Mr Tran's body below a skylight, plus 3,000 cultivated cannabis plants.
A post-mortem examination showed he had died from head and spinal injuries. He was identified several weeks later through fingerprint records in Vietnam.
Giving evidence, Det Ch Insp Mark Hall said the units had been converted into a "large-scale" cannabis factory and were "heavily fortified".
Investigations had shown the burglars entered the units through one skylight and exited via another.
'Insufficient evidence'
He said Mr Tran died during the process of the burglary and believed he was either fleeing from or pursuing the burglars when he fell through a third skylight.
However there were no witnesses to confirm this and not enough evidence to ascertain the exact cause of Mr Tran's fall, he added.
Recording an open verdict, Mrs Beasley-Murray said there was "insufficient evidence to record otherwise".
Speaking after the inquest, Det Ch Insp Hall said he was still keen to establish the precise details of Mr Tran's death.
"There are other persons who we believe were present when he died who may well hold the key to exactly how he died.
"I would urge those to come forward and speak to us."
Eight people have since been jailed in connection with the break-in for burglary and drugs offences.