David Oakes's ex-wife: 'Killer had put gun to my head'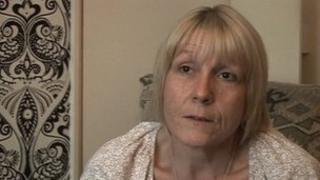 The ex-wife of a double murderer in Essex has told the BBC he had put a gun to her head and pulled the trigger.
David Oakes, 50, shot ex-partner Christine Chambers, 38, and daughter Shania, two, at their home in Braintree in June 2011.
He was sentenced to a whole-life term on 11 May.
His ex-wife Kim Davis, who had a son with Oakes, said the "total control freak" was regularly violent and on one occasion pulled a gun on her.
"He pushed me to the sofa, pulled a gun out of his pocket, put one bullet in the barrel and spun the barrel," she said.
'Not allowed friends'
"He kept clicking it to my head, he held the gun straight to my head.
"It didn't go off, so he went off and calmed down and came back later as if nothing had happened.
"It was horrendous.
"I thought 'my time's up, this is it, I'm going to die'."
Ms Davis had met Oakes as a teenager in the 1980s.
She was married to him for 18 years and had divorced him years before his troubled relationship with his murder victim.
He subjected Miss Chambers to a degrading assault over several hours before shooting her and their daughter at her home.
He later shot himself in a failed suicide attempt.
Asked why she did not leave Oakes or seek help, Ms Davis said: "Being threatened [that he would] kill your son and your family, you don't know whether he would, you're just too scared to say anything.
"I wasn't allowed to have friends. He would slap me for talking to other people.
"He was a total control freak.
"Everything had to be his way. If it wasn't his own way he would smash the house up or beat me."
She said she had been at Chelmsford Crown Court with the Chambers family during Oakes's trial and was relieved for them when he was convicted and then
"I was physically sick when I heard what had happened [to Christine Chambers and Shania]."
"It's just a relief he can't harm anyone anymore. I'm much more relaxed now."
Asked what she would tell other domestic violence victims, she said: "Tell someone, get out while you can.
"There is more help these days.
"Get out, because it could end up like this."