Diamond Jubilee: Former Dunkirk lifeboat set for pageant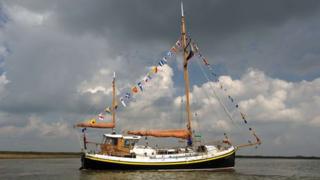 A former lifeboat used to rescue Allied troops from the Dunkirk beaches during WWII is being prepared to take part in the Diamond Jubilee Thames Pageant.
Stenoa, a 55ft (16m) former RNLI Newhaven vessel, has been privately owned and moored for over 40 years on the Walton backwaters in Essex.
It will be among 1,000 boats taking part in a flotilla to mark the Queen's Diamond Jubilee on 3 June.
Owner Tim Dansie said it was a "fitting tribute" to the boat's history.
As a Watson Class lifeboat, then known as Cecil and Lilian Philpot, it saved 148 lives along the south and east coast between 1929 and 1969.
In 1940 it was among the many small ships used during the Dunkirk evacuations, rescuing 51 soldiers.
"All lifeboats on the east and south coast were called in to help with the Dunkirk evacuation," Mr Dansie said.
"The boats were taken across by naval crews and our boat took troops from the beaches out to the waiting destroyers.
'Huge welcome'
"At one stage, she was marooned on the sands for over four hours."
It was bought by the Dansie family in 1969, who renamed it Stenoa - an acronym of the owners' children - and converted it for use as a recreational cruiser.
It has since undergone restoration and this year was repainted ahead of the Queen's Jubilee river pageant.
On 3 June it will be one of about 50 Dunkirk Little Ships invited to take part in the seven-mile flotilla and will be moored near Wapping as part of an Avenue of Sails.
Mr Dansie believed its involvement would be a good chance to remind people of the rescue.
"It's going to be absolutely fantastic," he said.
"[The boats] always receive a huge amount of interest and we get a huge welcome from the French when we go over there."