Southend Air Festival attracts thousands to resort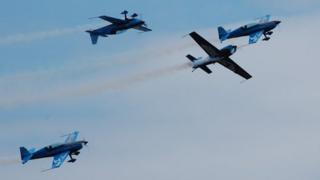 Tens of thousands of people attended the Southend Air Festival in Essex this weekend.
The two-day event is regarded as one of the largest free seaside air shows to be held in Europe.
The displays along the seafront included the Battle of Britain Memorial Flight (BBMF), Spitfire, Typhoon FGR4, Hawk T1 and wing walkers.
Southend Council said last year's event attracted about 250,000 people to the resort over the course of the weekend.
Flight director of the festival, Dave Walton, said the show was a good one to start the air show season.
"It's one we always look forward to coming back to and it's a great venue, the pier and the coast opposite makes a really good backdrop," said Mr Walton, who works for an air display management company which orgainses a number of shows in the UK.
Typhoon return
"The Typhoon was the big highlight. It wasn't around last year because of the Libyan crisis, so it was a welcome return for that."
The Red Arrows were absent from this year's festival, as they do not start their flying programme until June.
However, a single RAF Hawk T1 used to train pilots flew.
"We had all the RAF training planes this year, the Tutor, Tocano and Hawk, so it was a good showing from the air force along with the Typhoon," Mr Walton said.
Four former Red Arrows pilots flew as part of the Blades aerobatics display team.
One of them, Chris Carder, learned to fly in Southend.
"It's always nice to come back," he said. "This is my eighth display at Southend and my third year with the Blades.
"Every pilot remembers where he did his first solo flight and for me that's Southend."