Essex rapist Jon Molt jailed after being traced by DNA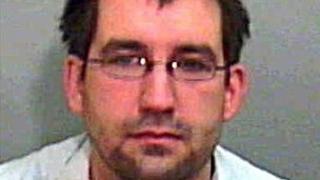 A rapist has been jailed for eight-and-a-half years after being convicted of attacking a 15-year-old girl in an Essex woodland almost 15 years ago.
Jon Molt, 34, was traced after his father provided a DNA sample as part of the police inquiry into the rape in Ten Metre Wood, Harlow, in December 1997.
Chelmsford Crown Court heard the sample provided a "familial match". Molt, from Rushes Mead, Harlow, had denied rape.
His victim said she was "extremely grateful" to police for catching him.
Prosecutor Carolyn Gardiner said the girl had attended a Christmas concert at her school and became concerned that her boyfriend, who played in the band, was not there and decided to walk to his house.
'Brutal attack'
As she passed through a secluded area of the wood she became aware of somebody running behind her, the court heard.
Ms Gardiner said as the attacker tried to remove the girl's school uniform, she said: "Please don't hurt me, I'm only 15."
The prosecutor said: "She screamed and he struck her and said 'If you scream again I'm going to kill you and I'm going to kill you bad'."
Despite a major investigation and a Crimewatch appeal, Molt was not traced until a DNA match was found almost 15 years later.
The court heard that, at the time of the attack, Molt worked in a Blockbuster store near the woodland.
Senior investigating officer, Det Ch Insp Rob Vinson, said: "Jon Molt believed for over 14 years that he had got away with this brutal and shocking attack on a young girl who had just left a school carol concert.
"He hadn't and he will now be going to prison for a long time."
The case is the first time familial DNA has been used by the Kent and Essex Serious Crime Directorate to track down an offender.
The victim, who is now married and living in London, said: "It is difficult to describe the sense of relief that I feel now that this man has been caught.
"Fourteen years is a long time and I was beginning to believe that he would never be caught.
"I am extremely grateful that Essex Police continued to investigate the crime and I would like to thank them not only on my behalf, but for any future victims of this man who will now never have to go through the ordeal that I have had to endure."