Neighbours 'killed man after Clacton new year party'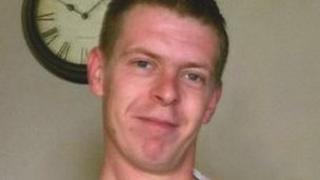 A carpenter who went to retrieve his car keys from a house after a new year party died in a "brutal" assault by neighbours, a court has heard.
Oliver Smith-Daye, 29, was found fatally hurt in Trimley Close, Clacton-on-Sea, Essex, on New Year's Day.
Elisha Francois, 21, of Harold Hill, Charlie Jacobs, 23, of Beach Road in Clacton, and Alan Didier, 42, of Renfrew Close in London deny murder.
The three are on trial at Chelmsford Crown Court.
'Wake up'
Vincent Coughlin QC told the jury on Wednesday that Mr Smith-Daye "was subjected to a brutal and sustained assault by these three defendants".
He said: "The extent and degree of the violence that they inflicted upon him were such that, by late afternoon of that day, he had died of his injuries."
Mr Coughlin said Mr Smith-Daye and his friend Mark Fletcher had been at a party next door to the mid terraced house where Ms Francois was living with her mother at the time.
Mr Fletcher and Mr Smith-Daye did some tidying up in the early hours of New Year's Day before heading out to drive home, said Mr Coughlin.
However, once outside Mr Smith-Daye realised he had left his keys inside the house so returned to get them.
He knocked on the door and shouted "come on wake up" through the letterbox, the court was told.
At that point Ms Francois shouted out of the window that he was waking her child up, Mr Coffey said.
'Broken my neck'
Ms Francois appeared outside and attacked Mr Smith-Daye, said Mr Coughlin. Her partner Mr Jacobs "quickly joined" in, said Mr Coughlin, and Mr Didier was seen "brandishing a golf club raised over his head charging towards" the victim.
While Mr Fletcher ran to a telephone box to call the police, said Mr Coughlin, Mr Smith-Daye was "struck, stamped on and repeatedly punched".
When he returned to his friend, he found him slumped against the house where they had been that evening, the court heard.
Mr Smith-Daye was heard to say "my neck, I've broken my neck. I can't believe they've hit me like that", said Mr Coughlin.
The injured man was taken to Colchester General Hospital but died at 18:00 that evening.
Cause of death, the court heard, was internal bleeding caused by the "direct impact from blows to the upper neck".
The trial continues.