Essex council offices reopen after 'chemical scare'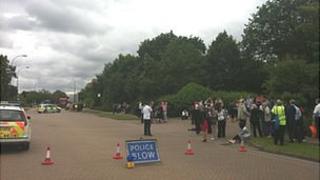 A council office complex twice evacuated because of suspected chemical leaks has partially reopened.
Fire crews were sent to Essex House in Colchester after staff complained of dizziness and sickness on 9 July.
It was the second chemical scare in less than a fortnight at the building, which houses Essex County Council call centre staff.
The building was partially reopened after no hazardous substances were found.
The offices had been closed since the last evacuation while independent investigations were carried out.
'Hazardous substances'
On 9 July, 11 workers reported feeling unwell.
While the site was closed, the county council had to make alternative arrangements for callers.
A spokesman for the council said the section of the building where staff reported feeling unwell remained sealed off.
He said: "The wellbeing of our staff is paramount and following several specialist investigations across the entire building at Essex House, we can confirm that no hazardous substances, fumes or contaminates have been found inside.
"To give further reassurance to staff, air quality monitoring will take place inside the entire building 24-hours a day, seven days a week and appropriate action will be taken should any deviation in readings be detected."