Plan submitted to disband Essex mounted police section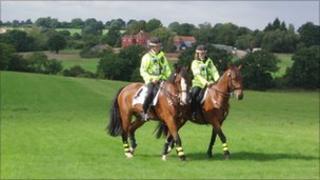 The mounted police section in Essex could be disbanded to save £600,000.
Consultation is under way with the nine officers and two staff in the unit, and a plan to disband the section has been submitted to Essex Police Authority.
It will be considered by the authority's finance committee and will be implemented in September if passed.
Chief Constable Jim Barker-McCardle said the proposal was made reluctantly and was the result of pressure to reduce police budgets.
"In these times of unprecedented financial pressures, the force is faced with very hard choices," he said.
"The proposal to disband the mounted section is made with great reluctance.
"The welfare of the horses will be paramount and, if the unit is disbanded, it is not anticipated that this will lead to the destruction of any police horses."
Essex Police has to make annual revenue savings of £42.2m by 2014/15.