London 2012: Town criers to marshal contestants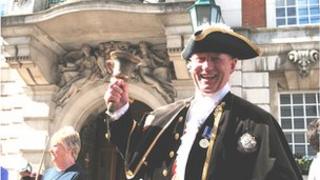 Town criers have been drafted in to steer competitors into the Olympic Stadium for the parade of athletes during the opening ceremony.
Robert Needham of Colchester, David Peters of Guildford and Anthony Church of Banbury and Oxford were selected to help at the event.
On Friday they will help marshal the athletes' procession from the Olympic Village to the stadium.
All three are members of the Ancient and Honourable Guild of Town Criers.
The guild was invited to take part in the opening ceremony a few weeks ago.
Morris dancing
Guild chairman Mr Needham said: "This is the ultimate for a town crier.
"To be called upon to assist in this way is almost unbelievable.
"All of the selected town criers have expressed how honoured they feel to have been entrusted with this role.
"They are determined to provide the competing world with a glimpse of Britain's colourful and traditional heritage.
"In doing so, they hope to leave a lasting impression on our visitors and will no doubt savour similar thoughts for themselves."
The three criers will be on hand to greet competitors on their journey from the Olympic Village.
They will also help guide the contestants towards the athletes' parade in the Olympic Stadium.
Part of the criers' job will involve making sure the competing nations enter the stadium in the correct order.
Mr Peters, who became town crier when his father Arthur - the previous crier - died 20 years ago, said he was planning to put his vocal skills to good use.
"I think there are supposed to be some announcements made," he said. "We've also got to keep the athletes heading in the right direction."
Asked whether he was nervous about having an international audience speaking scores of different languages, Mr Peters, who is the fourth generation of town criers in his family, said: "I am used to being in the High Street of Guildford where we have lots of tourists - it will be fine."
Mr Church said town criers were, along with Morris dancing, a quintessential part of British culture.
About 2,000 schoolchildren across the UK will form a guard of honour to line the route as the athletes make their way from the Olympic Village to the Olympic Stadium.