Hadleigh Farm 2012 mountain bike site to open to public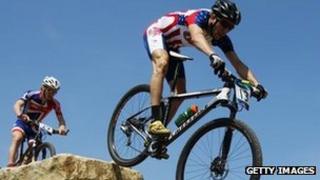 An Olympic mountain bike course in Essex will open to the public after the London 2012 Games.
Castle Point Borough Council voted to allow a planning application to construct two biking tracks, a bike skills area, a visitor centre and other facilities on land at Hadleigh Country Park.
The scheme will see the course adapted to make it safe for the public to use.
Hadleigh Farm is hosting two days of Olympic competition next week.
'Carry on fight'
Essex County Council put forward plans for a permanent recreation trail at Hadleigh Farm and Hadleigh Country Park, and a new visitor centre and business units.
A county council report to the committee said the scheme would aim to provide "opportunities for people to more fully access, enjoy and appreciate the area's natural and historic environment".
The plans have been backed by cyclists but opponents claimed the development would spoil the countryside.
Conservative councillor for St Mary's, Alf Partridge, said he had received scores of emails, phone calls and letters from residents about the inclusion of Benfleet Downs in the county council's plans.
Mr Patridge said he was angry he was barred from speaking because the site location did not fall in his ward.
"Most of the downs are used by residents from St Mary's," he said. "The general message has been a call to leave our downs alone. It is one of the last quiet, unspoilt bits of open space in South Benfleet.
"I hope people don't give up but carry on fighting this."
Stephen Castle, of the Conservative-run Essex County Council, said the planning decision would establish a "legacy".
"Essex residents can be proud not just of hosting the exciting and challenging London 2012 Olympic Mountain Bike events but proud of the promise of a legacy," he said
"The project will also benefit the environment, by enabling historic and natural environment improvement projects."