A127 Wickford escaped pig homed at animal sanctuary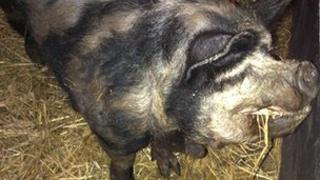 A pig which brought traffic to a standstill on one of Essex's busiest roads has been found a temporary home at an animal sanctuary.
The A127 was closed on Friday when five pigs went onto the road near Wickford.
The closures led to three mile (4.8km) queues on the London-bound stretch of the carriageway.
One pig was caught by police officers at the scene who named him "Derek". The pig is now at Hopefield Animal Sanctuary in Brentwood.
It is understood the owner of the escaped pigs managed to catch another of the pigs.
'This pig may bite'
Leanne Angliss, deputy manager at the sanctuary, said the remaining three pigs were either still on the loose or had managed to return home of their own accord.
She said Derek was "very lucky" to still be alive "especially as he was walking along the A127".
"Everybody was a bit fearful he might have been hit by a car," she said.
Derek, who has 10cm (4in) tusks, is currently housed in a pen on his own at the sanctuary behind a warning sign saying "this pig may bite".
Ms Angliss said: "We are not sure about his nature. He has not shown any aggression towards us but obviously being open to the public we've got be a bit wary."
Ms Angliss said she hoped Derek's rightful owner would make contact with them to arrange his return.