Essex police commissioner day 'was invitation only'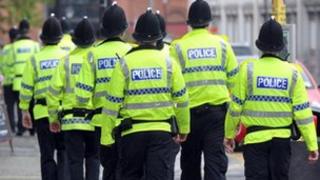 A councillor has criticised the process to find a police commissioner for Essex after claiming he was "vetted" and faced a "struggle" to get information.
John Gili-Ross, who is considering standing as an independent candidate, said a recent event to promote the election was "invitation-only".
The police authority said it had acted within "national guidelines".
Voters will elect a commissioner in November to oversee Essex Police.
The police authority held a briefing in Chelmsford on 23 July, with talks from officials, the police and the authority.
'Public voice'
But Mr Gili-Ross, from West Bergholt, near Colchester, said only people who had already expressed an interest were invited.
He said: "I had to insist to be put through to the person making the decision about who could attend the briefing... I was asked 'Who are you and why are you thinking of standing?'
"I felt I was being vetted. I did not think that was the job of the police authority to vet candidates, but for the electorate to do.
"I had a struggle to get the information and I think more could be done to publicise what's going on."
The first elections for the posts will take place in 41 regions on 15 November, with formal nominations opening on 8 October.
Each candidate needs to collect signatures from 100 people registered to vote in the police force area where the candidate is standing.
The Home Office has said the elected positions should "give a voice to the public".
'Private session'
Linda Belgrove, an independent member of Essex Police Authority, said she was surprised more had not been done to promote the election.
"I'm quite sure that all members expected that it would be a very open affair and that maybe we would do an advertising campaign," she said.
"I was told quite firmly that this was going to be a private session, invitation-only.
"I was told it would be offered to those who announced their intention to stand either in the media or on social networking. I found that rather odd."
Charles Garbett, the police authority's acting chief executive, said relevant details were being given to known candidates.
"Every effort is being made, within national guidelines, to provide relevant information to known candidates," he said.
"A programme of wider public communications designed to increase public awareness is scheduled for implementation as the election itself draws closer."