PC Ian Dibell shooting: Memorial service held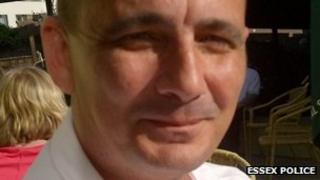 Home Secretary Theresa May has joined officers of all ranks at a memorial service to honour a policeman who was shot dead in Essex.
PC Ian Dibell, 41, was killed near his home in Clacton while intervening in a row on 9 July. He was not on duty.
His suspected killer, Peter Reeve, 64, shot himself dead in a churchyard in Writtle, near Chelmsford, the next day.
Hundreds of people packed St James Church, in Tower Road, Clacton, for the service.
Officers from Essex Police held a guard of honour at the entrance to the church.
Essex Chief Constable Jim Barker-McCardle revealed relatives of Pc David Rathband, blinded by Raoul Moat and found dead at his home earlier this year, and PC John Henry, stabbed in Luton in 2007, had sent cards of condolence.
Several members of the congregation broke down in tears as PC Dibell's girlfriend, police community support officer Louise Lilley delivered her tribute to the father of two.
She said: "Thirty-seven days ago I was blissfully unaware that my normal, contented life was about to be destroyed."
She added that the couple, who were due to begin a holiday in Spain on Wednesday, had recently begun living together.
"I felt excited, happy and complete," she said.
"Ian loved his community and was on speaking terms with everybody. Most of all he was a real family man."
At the time of his death, PC Dibell had been off work with a hand injury suffered while on duty. He had spoken of his frustration at being unable to do the job he loved.
Miss Lilley, herself a mother of two, addressed him, saying: "You did make a difference and you stood by your beliefs."
Chief Constable Barker-McCardle told the service that the ultimate duty of a police constable was to protect life.
He added PC Dibell had displayed "courage, bravery and gallantry".
Miss Lilley said: "I wish to thank everybody around the nation and in my own local community for the messages of condolence and support I have received.
"I have been truly overwhelmed by the kindness of so many."
A message of condolence from the Prince of Wales was read to the congregation.
In his tribute, Prince Charles said PC Dibell's death served as a reminder of the sacrifices officers make and the dangers they face.
A private funeral service for PC Dibell took place last month.