Two Southend-on-Sea beaches lose Blue Flag status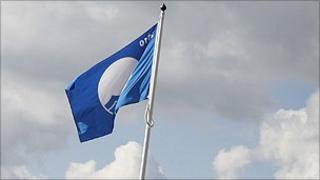 Two Essex beaches have lost their Blue Flag following heavy summer rainfall.
The loss of the award from East Beach in Shoebury and Three Shells Beach in Southend comes as "a bitter blow", said a borough council spokesman.
It follows the loss of Blue Flags from Southend's Chalkwell and Jubilee beaches earlier in the year.
Blue Flags are awarded in the UK for water quality, cleanliness and safety by the anti-litter organisation Keep Britain Tidy.
Derek Jarvis, Southend-on-Sea Borough Council's executive councillor for tourism, said: "We are in the lap of the gods when it comes to the bathing water quality monitoring regime.
"Twenty samples are sent for testing every season between May and the end of September and if your beach gets visited the day after heavy rainfall then the water quality will be adversely affected by surface water run-off.
"We know that in such cases the readings very quickly return to normal, and that if they had been taken on another day the results would have been different.
"It's a complete lottery and it's very frustrating to go from having five Blue Flag beaches a couple of years ago to just one now."
The borough council is working with water authorities to see what measures can be taken to reduce the affect of heavy rain affecting the water quality readings in the future.
"It should be stressed, however, that despite losing Blue Flag status Keep Britain Tidy acknowledge that it is still safe to swim off East Beach and Three Shells," said Mr Jarvis.
The council retains a Blue Flag beach at Shoebury Common.