Leigh-on-Sea fisherman Paul Gilson nets 13th mine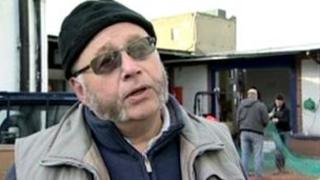 A fisherman has told how he netted his 13th mine during a career of more than 40 years on the water.
Leigh-on-Sea fisherman Paul Gilson, 58, has worked the waters around Essex for 43 years.
Over the years he has encountered many dangers and has now "caught" the latest in a string of mines.
"It is not really one of those figures you want to achieve," said Mr Gilson, who skippered a boat during The Queen's Diamond Jubilee pageant.
The latest mine, a German cylindrical model, was caught last week off Harwich.
Mr Gilson said it was one of the biggest he had caught.
He said it was a "fantastic bit of engineering" and in near "pristine condition", but was unlikely to have posed a risk as the battery would be flat.
Describing what happened, Mr Gilson said: "It was all going quite nicely and we had caught a bit of fish and it was a nice day.
"We started to slow down and I suspected it wasn't quite right given the technology we've got now.
"When I pulled the nets to the surface one of them had a lot more weight in it than the other," said Mr Gilson.
"I had a good idea what it was going to be but was hoping it wasn't. As we got it to the back of the boat we realised it was number 13."
He said: "It is an occupational hazard. You never know what you're going to do or what you're going to see."
Mr Gilson, who skippered the restored cockle boat The Endeavour during the Jubilee event, eventually managed to get it back into the water.
Jeremy Littlewood, a watch manager at Thames Coastguard, said the Essex coast was littered with explosive devices dropped or laid during World War II.
He said anybody who found ordnance at sea or on the beach should contact the Coastguard for safe disposal to be arranged with the Royal Navy's explosive ordnance disposal (EOD) specialists.