David Oakes murders: IPCC finds Essex Police 'failures'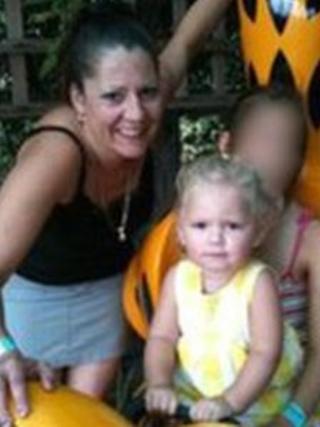 Essex Police took "inadequate action" to arrest a man who went on to murder his ex-partner and daughter, the police watchdog has found.
David Oakes, 50, shot Christine Chambers, 38, and Shania, two, at their home in Braintree in June 2011.
Oakes, of Steeple, near Maldon, was convicted at Chelmsford Crown Court and sentenced to a whole-life term.
The Independent Police Complaints Commission found "failings" in the force's contact with the family.
It emerged during Oakes' trial that police had attended either his or Miss Chambers' address at least six times in the two years leading up to the murders.
The family of Miss Chambers, responding to the IPCC's findings, said they felt more could have been done by police.
IPCC commissioner Rachel Cerfontyne said: "While individual police officers could and should have done things better, this is not essentially a failure of individuals, but a failure of systems.
"The investigation identified a lack of adequate training, insufficient resources allocated to domestic violence cases and poor oversight."
Five officers have been debriefed on the IPCC's findings.
'Completely let down'
Essex Police said it accepted the IPCC findings and apologised "for the failures identified".
Assistant Chief Constable Maurice Mason said: "Tragically, we will not be able to prevent every murder but we must strive to do so."
Miss Chambers' father Ken said the family felt Essex Police could have done more to prevent the deaths.
He said: "For instance we are still of the view she should have had a panic alarm installed at her home which may have allowed her to summon assistance at a crucial time after her phones had been smashed.
"And we think that officers dealing with ongoing incidents should have been more aware of the history and should have better identified the risks."
Double-barrelled shotgun
Drunk and on cocaine, Oakes subjected Miss Chambers to a degrading assault over several hours.
He let himself into the house, in Bartram Avenue, just before midnight on 5 June 2011, armed with a double-barrelled shotgun, an axe and petrol.
After killing the pair, he shot himself in a failed suicide attempt.
Two months earlier Miss Chambers had been granted a non-molestation order which banned former bouncer Oakes, who lived on a caravan park, from coming within 100 metres of her road.
Miss Chambers' other daughter, then aged 10, witnessed the attack but escaped out of a bedroom window and went to her father Ian Flitt's house nearby.
Mr Flitt said: "I feel completely let down. Had police dealt with it earlier none of this would've happened.
"At least the truth has come out. It's what I've been saying all along."