Colchester crime victim Nikki Brewer 'let down' by law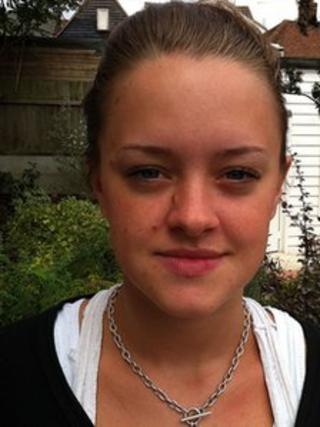 A woman punched to the ground says she feels let down by the justice system because the suspect cannot be charged.
Nikki Brewer was walking home with a friend from a night out in Colchester in April 2009 when a drunk man pulled her hair and punched her.
She was left with a black eye during the incident which was captured on CCTV used in a public appeal.
Despite Essex Police arresting a suspect, he cannot be charged with assault as too much time has elapsed.
Police released CCTV footage of the incident 18 months after the incident, in September 2010.
Someone came forward with information earlier this year and a 31-year-old man was arrested in May.
'Wanted justice'
When police showed the CCTV footage and witness statement to the Crown Prosecution Service (CPS), the force was told the evidence could only support a common assault charge.
Because common assault charges must by law be made within six months of a crime, the police dropped the case.
Ms Brewer said the incident had left her with back injuries and she now used a wheelchair for long journeys.
"I fought so hard because I wanted justice," she said. "I feel frustrated that my attack is classed as common assault - there is a scale of it - and I think I should have been at the top end because whilst my nose wasn't broken it so easily could have.
"Plus, look at my injuries now - that should definitely be actual bodily harm, not common assault."
A police spokesman said: "The legislation has existed for years and both ourselves and the CPS are aware of this.
"The statutory six-month limit to charge on this summary-only offence had passed so police could legally proceed no further."
A CPS spokeswoman said: "The lawyer looked at some witness statements and a CCTV recording of the incident, but no full file of papers was received.
"The offence under consideration was one which carried with it a time limit of a prosecution being started within six months of the incident which happened in April 2009."