Dale Farm traveller site arrests: Council drops action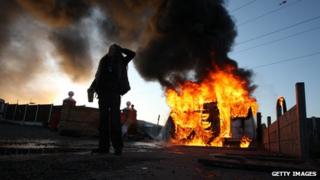 No further action will be taken against protesters arrested during the clearance of the illegal travellers' site at Dale Farm in Essex.
The protesters were among those arrested by police as travellers were removed from the site last October.
Basildon Council successfully prosecuted two people for obstructing a bailiff.
Plans for 14 further private prosecutions - described by a lawyer as "vindictive" - have now been dropped.
The prosecutions were pursued privately by the council under Section 178 of the Town and Country Planning Act in which it as an "offence to wilfully obstruct" a local planning authority taking enforcement action.
The police had not sought to prosecute the protesters.
Solicitor Raj Chada, from Hodge Jones and Allen LLP which represented the protesters, welcomed the decision.
'Public interest'
"As well as the millions spent on the eviction itself," he said, "Basildon Council sought to spend even more on a vindictive prosecution of a group of people who happened to disagree with them - and this at a time when local services are being slashed because of budget cuts.
"Thankfully for the clients, it is over."
The council's leader Tony Ball said the decision was made after a district judge questioned the public interest in bringing the earlier prosecutions.
"This has been a finely balanced decision," said Mr Ball. "I understand and respect the judge's comments about the time that has elapsed, the fact the site is cleared and any fines imposed would be low.
"I am concerned about the message this would send to the protesters, who caused the council to incur considerable extra expense, and to our residents who have had to pick up the bill.
"However, there are a number of other factors to consider, including the time and cost for the police and the council and the court time that this is taking up."
The clearance operation followed a decade-long row over unauthorised plots on the six-acre site.
There were violent clashes as scores of protesters joined travellers to resist the clearance.