Brightlingsea baby delivered by passing police officers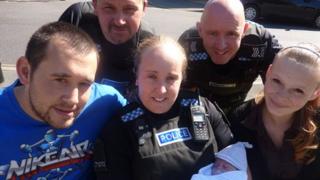 Passing police officers helped deliver a baby in a communal hallway after they were flagged down by a worried father-to-be.
Chelsea Nolan, 20, went into labour at a block of flats in Brightlingsea on 8 September.
Miss Nolan's partner Ramon Hayward asked for help from Sgt Simon Tattersall and PCs Kirsty Lucas and David Wren.
With the help of officers, Mr Hayward delivered baby Annie.
'Surreal moment'
The three officers had been dealing with a fight outside a block of flats in Victoria Place when Mr Hayward raised the alarm.
PC Wren, 44, said: "It was a fabulous experience being the first to hold the baby as I passed her to mum who was amazing throughout the whole incident."
"One minute we were dealing with a fight and the next we were delivering a baby. It was a surreal moment," he added.
PC Lucas, 31, said: "Little Annie is gorgeous. I feel privileged to have been part of such a wonderful experience.
"I never imagined that during my tour of duty I would be delivering a baby with my colleagues."
"I recall telling Chelsea she had given birth to a little girl and the delight in her face was amazing. The experience will live with me forever," she said.
The couple said: "We're extremely proud of Annie and are extremely grateful to these officers who are our new best friends.
"We're not sure what we would have done without them."
Annie weighed 6lb 8oz (3kg).