Rowan Diedrick has sentence cut for Southend dog attack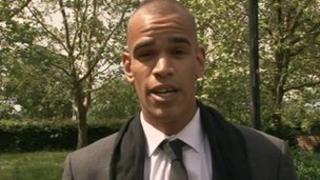 A man whose Rottweiler attacked a seven-year-old boy on an Essex beach, causing serious injuries, has had his prison sentence reduced on appeal.
Rowan Diedrick, 29, of north London, had admitted having a dog dangerously out of control on Southend beach.
The boy was paddling in 2011 when he was forced under the water and suffered 20 wounds to his torso and arms.
The Court of Appeal agreed his 16-month sentence was too long and reduced it to 11 months.
Diedrick, of Avenue Road, Enfield, had been sentenced at Basildon Crown Court in June and banned from keeping a dog for 10 years.
The Court of Appeal heard the boy, who cannot be identified for legal reasons, had been taken to the beach by his grandparents and needed 60 stitches after the attack.
Diedrick disregarded a sign saying dogs were banned, had "simply walked off" and told the boy's grandfather the attack was "not his fault", the court heard.
His mother had reported him to police weeks later after he appeared in closed circuit television footage posted on the internet, judges were told.
Dermot Keating, for Diedrick, argued that the sentence was harsh when compared to sentences for similar offences.
Mr Justice Underhill, who sat with Lord Justice Pitchford and Mr Justice Bean, said Diedrick had let the dogs off the lead in a public place where they were not allowed.
But he said Diedrick had "no prior warning" that either dog might attack.