Coastguard plea after Canvey to Harwich voyage rescues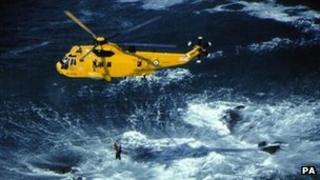 The crew of a boat has been labelled "silly" by the Coastguard after they had to be rescued twice in two days.
The 20ft (6m) vessel became stranded on the rocks at Jaywick near Clacton at 15:19 BST on Thursday.
One of the three people on board the motor boat was taken to hospital with chest pain and possible hypothermia.
The rescue came a day after the same crew went aground on the Foulness Sands without charts, flares or a VHF radio, and reported themselves lost.
Thames Coastguard watch manager Lewis Constantine said the two rescues could have "been avoided with some simple training and some simple equipment".
'Crazy thing to do'
He said: "Always check the weather forecasts and if you're going to participate in a voyage at night, make sure you have charts.
"This crew had no idea of its position. It was quite a crazy thing to do. And then to carry on against advice - it is silly to do that."
The rescue on Wednesday unfolded when the crew of the vessel, who left Canvey Island three hours earlier, rang 999 saying they had run aground but did not know where.
The Coastguard and the RAF search and rescue helicopter were sent out to find the vessel.
They declined safety advice from the Coastguard and continued their journey to Harwich.
After getting stranded at Jaywick, two of the crew swam ashore and a third person was rescued by the RNLI from the rocks.