Essex school closed after lead theft causes flooding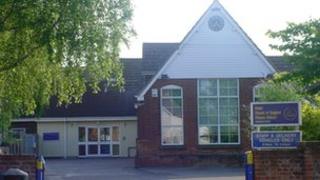 An Essex school has been forced to send all pupils home after thieves stole lead from its roof, causing flooding.
More than 200 pupils were sent home from Rolph Primary School in Thorpe-le-Soken, near Clacton, on Tuesday.
Head teacher John Crane said he and the school caretaker discovered leaks after they arrived at about 07:00 BST, and they got worse after rain at 08:45.
"Water was flowing like a stream down the corridor and the electrics and fire alarms were shorting out," he said.
"It wasn't safe so we had no option but to send the children home.
"I'm angry and disappointed because this will have a direct impact on children and their parents.
"I wish the people who did this would think about the knock-on effects.
"This is not a victimless crime, and the victims are aged between four and 11."
The lead flashing was stolen from the roof above the hall and office area, flooding a corridor linking the infant and junior sections of the school.
Mr Crane said builders were already working to repair the roof and he hoped the school would re-open on Thursday.
Essex Police said the theft took place between 19:00 BST on Tuesday and 07:00 on Wednesday, and are appealing for witnesses.