Essex Police set up shot PC Ian Dibell memorial fund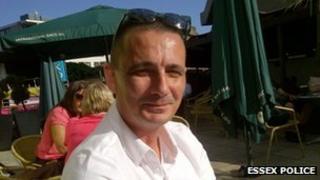 The colleagues of an off-duty Essex Police officer who was shot dead when he intervened in a row have set up a memorial fund in his honour.
Father-of-two PC Ian Dibell, 41, was killed in Clacton while off-duty, on 9 July. His suspected killer, Peter Reeve, shot himself on 10 July.
A police spokesman said donations had been made by staff and the public.
A rugby match between two Essex police teams will be played in Clacton on Wednesday, in aid of the fund.
'Entirely spontaneous'
"In the immediate aftermath of the shooting of PC Ian Dibell, the Essex Police Federation set up a memorial fund," the spokesman said.
"Donations given by police officers and staff, and by members of the public across the country, have been collected in trust.
He said the donations were "heartfelt, and entirely spontaneous", and decisions would now be made as the "most appropriate use of the memorial fund".
"It is likely that the some of the money will go to PC Dibell's dependants, and some will be used to remember Ian and the hugely committed service he gave to the communities of Clacton and Colchester," the spokesman said.
"Possible ways of remembering Ian include a plaque or other form of memorial at Clacton police station.
"In addition, Ian was a passionate dog lover, and there is a strong desire to explore the possibility of recognising Ian's deep affection for dogs in the way the memorial fund is used."
PC Dibell's partner, Louise Lilley, is a police community support officer and his brother, Paul, is a detective inspector with Essex Police.