Pair trapped on car after flood at Little Baddow ford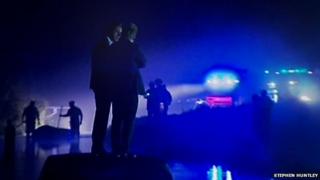 A man has said he thought he was "going to die" after the 4x4 he was driving in with his partner was hit by a "tidal wave" of floodwater in Essex.
Barrie and Tony Drewitt-Barlow - Britain's first gay couple to be named on their children's birth certificates - became trapped at Little Baddow after a river burst its banks at a ford.
The pair managed to climb on to the roof and were rescued by fire crews.
Barrie said some items were later stolen from their car.
Barrie said they were driving through the ford on Hurrels Lane just after midnight on Sunday after attending Essex Fashion Week with the cast of TV reality show The Only Way is Essex, in Rainham, north-east London.
Barrie said they had only driven through the ford an hour and a half beforehand after dropping off their daughter at a friend's house, but as they tried to cross again a "huge tidal wave of water" struck their Range Rover.
'So cold'
"It was terrifying. The electrics went and it was pitch black," he said.
"We were on a country lane, there was no street lights and the car started to fill with water.
"I was just freaking out and the water was coming in and in and all I could think about was my Prada shoes.
"I was just thinking: 'What the hell, I had spent £800 on these shoes and they're getting wrecked with water'.
"Then Tony got on 999 and as he was talking the car was getting full and full and full.
"I thought I was going to die at one point. It was so cold."
Essex Fire and Rescue Service said the water had risen to 5ft (1.5m) high, but the pair, who managed to clamber on to the roof of their 4x4, were back on dry land about an hour later after being rescued by an inflatable boat.
Barrie said when he returned to the vehicle the next morning he noticed the couple's laptop had been stolen from it, as well as a camera with photos of Saffron with The Only Way is Essex celebrities.
He has appealed for the return of the items.
The couple hit the headlines in 1999 after a surrogate mother gave birth to Barrie and Tony's first children - Aspen and Saffron. They now have five children.