Martyn Bloomfield jailed for knife attack on wife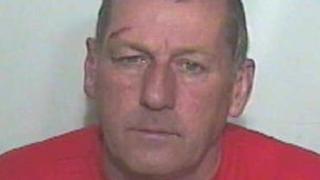 A fishmonger has been jailed for stabbing his wife 10 times in her lower back and buttocks after she returned home from a night out.
Martyn Bloomfield, 56, of Dukes Lane, Chelmsford, admitted stabbing his wife Katherine on 23 June.
Chelmsford Crown Court heard how Bloomfield, who ran a fish stall on Chelmsford market, had shown remorse.
Judge Christopher Ball QC jailed him for three years and nine months for causing grievous bodily harm.
Richard Stevens, prosecuting, told how Bloomfield attacked his wife after she returned from a night out at 4am.
During the night out, Bloomfield had seen his wife with another man and had demanded to know whether she had kissed him, threatening to "kill" the man if she had.
'Kettle cord'
Describing what happened when Mrs Bloomfield returned home, Mr Stevens said: "As soon as she entered (the house) the defendant was raging at her.
"She was very soon on the floor in the hall and the defendant at that stage was kicking and punching her," he said.
Bloomfield then went to the kitchen and returned with a 7in (17cm) vegetable knife.
"She at this stage was not aware of anything other than being hit," Mr Stevens said. But Bloomfield "suddenly got to his feet", said Mr Stevens, and said: "Oh my god, what have I done?"
At hospital it emerged she had been stabbed 10 times, the court was told.
The hearing was also told Bloomfield had tied a kettle cord around the neck of his previous wife and punched her in the back of the head.
The court was also told of a report by Essex Probation Service which voiced concerns about Bloomfield's domestic violence.
Ian James, defending, described the incident as a "momentary loss of control" by Bloomfield for which he was "very sorry".