Basildon Council takes away bench to deter drug dealers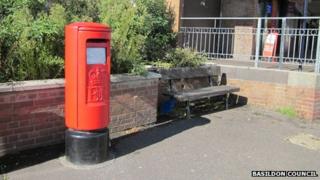 A council hopes to tackle illicit drug dealing in an Essex town by removing a bench used by dealers.
Conservative-controlled Basildon Council has also barred incoming calls to a telephone in Traceys Corner, Basildon, in a bid to disrupt deal.
Some residents question whether the measures will work and have instead called for more policing and CCTV.
The council said its measures were introduced after speaking with members of the public.
The council said it had decided to remove the bench and stop incoming calls as a result of suggestions from residents.
The telephone boxes were being used to arrange drug deals, the council said. The block on incoming calls will be in place for four months to test its effectiveness.
Malcolm Buckley, cabinet member for community safety at the council, said: "We have heard from a number of residents who are concerned about drug dealing in the area.
"I hope that the removal of the bench and barring incoming calls in the phonebox will have a positive impact."
But speaking about the council's efforts, one resident said: "That's not making the slightest bit of difference."
Pat Rackley, Labour councillor for the St Martins ward, said she hoped the "small" measures would have an impact.
"If you take away the bench then there's nowhere for them to sit," said Mrs Rackley. "It is a simple thing to do."
She said money was tight which meant the council was limited in what it could do to deal with the problem. Installing CCTV, she said, was too costly.
Sgt Paul Costin, of Essex Police, said drug dealing in the area was "an ongoing problem". He said police carried out stop checks in the area and he called on the public to provide information.