Leigh-on-Sea Havens Hospice plan turned down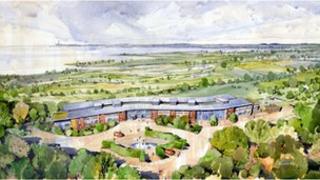 A plan to build a hospice on green belt land in Essex has been unanimously turned down by councillors.
Havens Hospices had said the two-storey building at Leigh-on-Sea would respond to "an urgent need" for extra capacity.
Southend councillor David Garston said "with heavy hearts", committee members could see no case for disturbing green belt land.
The hospice said it would appeal against the decision and claimed there was no viable alternative site.
In a statement, chief executive Andy Smith said: "We cannot wait. We cannot afford to leave patients in desperate need of our help waiting for a bed.
"What else can we do? We only have one chance to get this right. Therefore, we intend to go to appeal."
It had previously withdrawn its plans in December when the council's planning officer recommended it should be refused.
'Wonderful work'
Members of the development control committee, which met on Wednesday, had again been urged to reject the application re-submitted in July.
The hospice was proposed for land off Belton Way West, surrounded by other green belt, including a woodland and grassland area known as Belton Hills.
It would have supported day patients and in-patients and include 16 bedrooms, a chapel, day centre, and therapy and counselling rooms.
Speaking to the BBC after the meeting, Conservative councillor Mr Garston said it had not been an easy decision, although unanimously backed by all four political parties on the committee.
"Every member agreed, and we've all come away with very, very heavy hearts because we want to help a hospice which does such wonderful work.
"But this application... was just a step too far."
'Do not understand'
Havens Hospices has wanted to replace its existing 10-bed hospice based in three converted and extended homes in nearby Westcliff.
It said 17,000 people had signed a petition expressing their support for the plan and the council had received 1,100 supporting letters and "only 230 letters in opposition".
In 2010, it said it had to turn away 49 patients with life-limiting illnesses because it did not have enough beds.
Mr Smith added: "Sadly, despite all of our efforts, the councillors do not seem to understand what modern hospice care embodies.
"Therefore, they cannot begin to understand what makes a 'suitable site'.
"We would not risk the future of patient care if there was a viable alternative."
The council's corporate director for enterprise, tourism and the environment, Andy Lewis, said Havens had been advised by planning officers to consider other potential sites.