Strood causeway: Lifeboat manager calls for better signs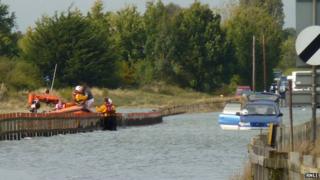 A lifeboat manager has called for improved warning signs at an Essex causeway after 13 people had to be rescued at high tide within 24 hours.
The West Mersea Lifeboat rescued a woman, child and a baby on The Strood, towards Mersea Island, on Thursday and 10 people were caught out on Wednesday.
Lifeboat operations manager Martin Wade said the call-outs were "putting a huge cost on to the emergency services".
Essex County Council said it would explore a request for electronic signs.
The B1025 crossing from Colchester to Mersea Island is one of only a few natural causeways left in the UK in which vehicles are allowed to cross.
Sea water can flow over the road up to 2ft (0.6m) deep during high tide, which Mr Wade said occurs about two to three days a fortnight.
It can then take up to an hour-and-a-half for water to drain away.
'Thousands of pounds'
Mr Wade said this week many people attempted to drive through the rising water but had to be rescued after their engines cut out.
He added his lifeboat only got called to rescue people on The Strood a handful of times each year.
But he said he was "fed up" of attending calls and felt that the current warning signs should be made more clear or traffic lights introduced.
"On Thursday we had a Sea King helicopter called to back-up the lifeboat. To call that costs thousands of pounds," said Mr Wade.
"The fire service is automatically called when the coastguard is rung. They were there on Wednesday. That costs extra money, too."
An Essex County Council spokesman said: "While there are currently no plans to introduce warning measures, the Local Highways Panel has received a proposal from the local community regarding electric warning signs.
"This proposal will need to be explored for its feasibility and if agreed, will go forward to be validated by the cabinet member for highways and transportation.
"Essex Highways would like to remind users not to take unnecessary risks on The Strood and to use a common-sense approach when the water is at high tide, and take notice of the 'Danger when tide covers footway' notices at either end of the causeway."