Havens Hospice sorry for Facebook threat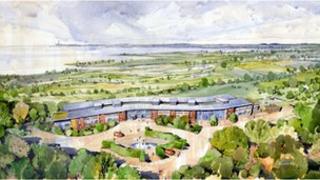 An Essex hospice has apologised after a worker threatened to withhold care in a row over a planning application.
Havens Hospices' plan for a £15m building at Leigh-on-Sea was turned down by councillors last week.
A man criticised the plan on Havens' Facebook page, which prompted a worker to respond that she would "remember his name" if "there's only one bed left".
Haven's Andy Smith said: "We are shocked and appalled that a [worker] appears to have acted in this way."
The member of staff also swore at the man on Facebook and told him he "won't be welcome" if Havens managed to build its new hospice.
'Completely unacceptable'
The comment has since been removed.
In a statement, chief executive Andy Smith added: "There has been much debate about our plans to build a new hospice, and we have been open to listening to all views, but offensive comments, including abuse and threats to deny access to care are completely unacceptable.
"We are carrying out a full and immediate investigation, and will take appropriate action to deal with this.
"Patients in need of a bed at the hospice are assessed on their clinical needs only, by a team of specialist nurses and doctors.
"We do not discriminate."
He gave an "unreserved apology" to the man and "those offended by the content."
The hospice has said it would appeal against the planning decision made by Southend Borough Council.