Pony in Great Easton trapped in swimming pool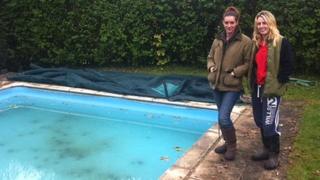 A pony got stuck in a swimming pool at a house in Essex, leading to a rescue by firefighters.
The county's fire service was called to Broxted Road in Great Easton near Great Dunmow at 00:30 BST.
Kelly Ward was at home reading emails when the security light outside her home lit up.
She looked outside and saw two escaped ponies in the garden. She worked with more than 20 firefighters to rescue one of the animals from the pool.
Miss Ward said of the ponies had fallen into the deep end and had gone through the protective netting.
'Absolutely shivering'
"The pony was quite small. I was worried about it drowning. I got in, dragged it by its neck to the shallow end," she said.
"The pony was absolutely shivering and it could stand up at the end."
The animal was sedated and tripped over once it got out of the pool, she said.
It is understood the ponies had escaped from a property about half a mile away.
Four fire engines, including a specialist animal rescue vehicle, were sent to the scene.
The pony was freed by 02:21 and left in the care of a vet.