Essex Police increase covert A12 'rock drop' patrols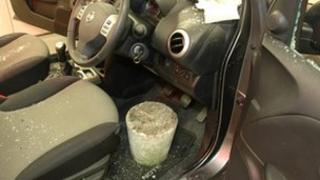 Police are carrying out extra patrols to help prevent incidents of rocks being dropped from bridges on to cars after several people have been injured.
Carol Manley was seriously hurt when a concrete bollard was dropped on her car on the A12 in Essex last December.
It was among a series of similar incidents which police said tend to occur in the winter months.
Patrols, especially those by covert officers, are to be stepped up around the A12 near Chelmsford.
Mrs Manley was a front seat passenger when a concrete bollard was dropped from the West Hanningfield Road bridge, near Chelmsford, on 1 December.
'Pure evil'
Her husband, Steve, who was driving the Nissan N-tec, suffered cuts while Mrs Manley had serious facial and rib fractures.
Forty minutes earlier, mother and daughter Stella and Lisa Horne were left shaken when their car was struck by a large rock dropped from Fryerning Lane Bridge over the A12 at Ingatestone.
Police said the incidents were linked and were treated as attempted murder, with a reward of up to £3,000 offered to find those responsible.
Mrs Manley told the BBC in August that every car journey is now a "trauma" and she is "constantly looking" for any dangers.
She described the perpetrators, who have not been found, as "pure evil".
"What they've done to me, and what they could do to someone else, you can't put it into words," she said.
"If we had been six inches either way, we'd have both been killed."
Essex Police said numerous other incidents where vehicles had been damaged had been reported in previous years and historically happened between November and January.
Extra patrols are now being carried out on the A12 and around rural and residential areas on either side of bridges, a spokesman added.
Drivers are urged to be vigilant, especially at night, and to report people loitering on bridges while people living near bridges should report any missing rocks from front gardens, he added.