Dale Farm soil samples tested for contamination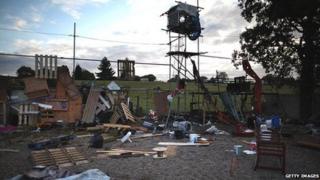 Soil samples from the Dale Farm travellers' site in Essex have been examined for signs of contamination.
Former residents of the site raised concerns about the possible contamination before they were evicted last October.
The Environment Agency, which would not divulge details of the concerns, has analysed soil taken from the site.
A spokesperson said the agency would "thoroughly consider" the findings before deciding on further action.
About 80 families were evicted from the six-acre site near Basildon after a decade-long planning row over the illegal settlement.
Before the clearance operation, Dale Farm was one of Britain's largest traveller communities.
Half the site had been legally occupied, while the rest - a former scrapyard on green belt land - had grown into an illegal settlement of single-storey chalets.
The Environment Agency collected the soil samples from the unauthorised part of the site over a three-day period in August.