Anger over Essex war memorial plaque feared stolen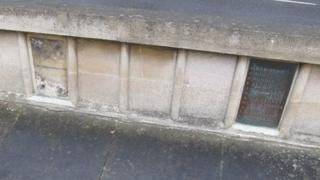 The theft of a war memorial in Essex has been described as "callous, disgusting and beyond contempt".
Essex Police were told of the missing bronze plaque on the memorial at the junction of Middleton Hall Lane and Shenfield Road in Brentwood on Tuesday.
Councillor Russell Quirk said those responsible should be ashamed.
"It's incredible that someone would go to such trouble and face the wrath of the people on the basis of netting £25 to £30," he said.
"I'd like to think that if it had fallen off that it would still be there or someone would have handed it in, so I think it's undoubtedly been stolen."
Mr Quirk said a replacement had been ordered.
The plaque, one of seven dedicated to victims of World War II, has 12 soldiers' names on it.
John Woolmore, chairman of the Shenfield branch of the Royal British Legion, said it was "disgraceful".
"I can't understand how somebody could do this sort of thing," he said.
"These people gave their lives yet they've simply took the plate off."
Essex Police said it was investigating the plaque's disappearance.