Fire at Grays Wood Products leads to evacuation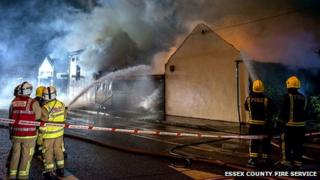 About 40 people living near a wood yard have been evacuated as a result of a suspected arson attack.
About 50 firefighters from across Essex and London are at the scene in Stanley Road, Grays, Thurrock.
Essex fire service said the Grays Wood Products building could collapse at any time.
The area surrounding the building has been cordoned off and residents are not expected to be able to return to their homes for several hours.
Divisional officer Greg Keys said a deep-seated fire remained within the building and that "the last remnants of the property were likely to fall down at any time, spilling out on to the road".
'Real inferno'
Nobody has been injured.
A joint police and fire service investigation is under way because it is thought the fire might have been started deliberately.
Mr Keys said: "Crews faced a real inferno when they arrived at the scene - the corner plot where the shop and yard stood was radiating heat and smoke with the contents of the yard fuelled by a whole range of flammable liquids you would expect to find in a timber yard.
"The first priority was to evacuate families as there was every possibility that the blaze was going to spread right through the terrace.
"While that was going on, the first crews went straight in to the immense heat and smoke to do what they could to save the property and prevent spread.
"There was nothing that could be done to protect the timber yard and shop but they worked hard to ensure the blaze did not spread beyond the first, adjoining terraced house.
"The fire is now coming under control and we have ordered a four pump relief with an aerial ladder and expect to be on site through the night.
"It is unlikely that the families will be able to return to their homes this evening as the houses have no power."