Colchester homes flood after water main bursts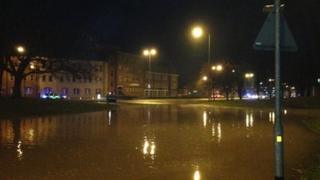 Homes have been evacuated after a burst water main caused flooding near Colchester town centre on Friday night.
Police were called to Southway at about 19:30 GMT and said about 16 homes had been affected by flood water.
Council officials have been providing sandbags and an emergency rest centre has been set up for residents.
Roads including Southway, Maldon Road, Wellington Street and Balkerne Hill have been closed and motorists have been told to find alternative routes.
Water could be seen spurting from the ground at the roundabout where Maldon Road, Balkerne Hill and Southway meet, forming large puddles 2ft (0.6m) deep.
A spokeswoman for Anglian Water apologised to customers in the town centre who had been left with either no water or low water pressure.
Engineers managed to reconnect supplies to homes by 23:00 GMT.
However, a spokesman warned that further work would be needed over the next week, although water supplies would not be affected.
'Sea of water'
BBC Look East reporter Felicity Simper at the scene said: "From the middle of the roundabout there are hundreds of gallons of water just bubbling up and pouring out of the grass and it's forming a river that's flowing round the roundabout and down Maldon Road, and further round the roundabout towards Colchester police station.
"Police tell me the police station is not directly affected but they are keeping an eye on the water levels.
"To my right on Maldon Road there are houses that are deeply affected by this flood and I'm actually watching a family baling water out of their front door.
"There are a lot of police vehicles stopping people from driving through the flood water and it's too deep in places for cars to get through.
"It's really just a sea of water wherever I look."