Dedham caravan order breach man Asa Pryke arrested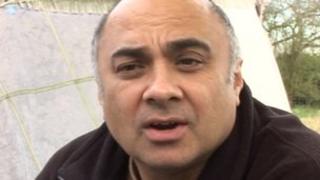 A man told he would be imprisoned for four months for breaching a court order that he move his caravan from his land has been arrested.
Asa Pryke, 47, and wife Gwen, 48, set up camp on their land in Dedham, Essex, in 2011 after their business collapsed.
Last week the Civil Court of Appeal ruled he had breached an earlier order to leave the site.
Police came on to the field on Tuesday morning and arrested Mr Pryke. His wife said she thought he was taken to jail.
Mr Pryke had previously been told he would be arrested on Monday.
'Immensely proud'
Colchester Borough Council, which brought the case against the Prykes for developing the Constable Country plot without planning permission, said it had no alternative other than to take action.
Mrs Pryke told the BBC she believed her husband had been taken to Chelmsford prison.
"Part of me thinks logically they won't keep him there for the whole four months, but from what I've seen, I wouldn't be surprised."
She said she had to remain strong for her children, boys aged 13, 15 and 17, and was "immensely proud" of her husband's strength.
There was no question of her leaving the site, she added.
"We have nowhere else to go at the moment.
"In the circumstances this is the best place for us, it constitutes home. We feel secure here."
The Prykes earlier said they had become homeless when they could no longer afford to pay rent on their previous property.