E-fit released of Basildon rape suspect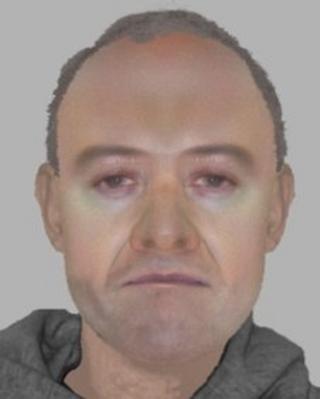 A police e-fit has been released of a man suspected of raping a woman after she flagged down a car in Essex.
The 21-year-old victim had been walking along Clay Hill Road, Basildon, shortly after midnight on 20 November when she got into a silver saloon car.
She was driven to a car park on Partridge Green, where the driver sexually assaulted and raped her.
Det Insp Mark Tyler said: "This was a particularly horrendous and disturbing assault on a defenceless woman.
"We would ask that people cast their minds back to the early hours of last Tuesday morning and if they were in the Partridge Green area then they should call us.
"We ask that people take a good look at [the e-fit] and contact us with a name."
The rapist is described as in his late 30s or early 40s, with very pale skin, a bulbous nose, large, long hands and mousey-blonde short-cropped hair that is going grey.
He spoke in broken English with a strong accent and wore a light hoodie and cotton trousers.