Lord Hanningfield expenses: Essex County Council considers civil case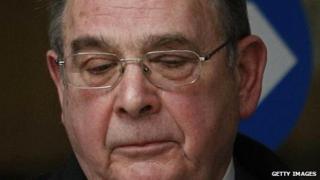 Disgraced peer Lord Hanningfield could face civil proceedings over his expenses claims during his time as leader of Essex County Council.
A report on his compliance with procedures is to be considered by the internal audit committee on Monday.
The report has been compiled over the past four years but was not published while police were still investigating.
The Essex force said last month that the peer faces no further police action.
Lord Hanningfield is yet comment on the report.
He served nine weeks of a nine-month sentence for parliamentary expenses fraud totalling nearly £14,000. He was freed in September 2011.
The peer, whose name is Paul White, became leader of the council in 2000 and was issued with a credit card, the report said.
Some of the spending on the card was not backed by receipts and there were other discrepancies, as several people had access to it.
The report claims that council officers had offered advice to Lord Hanningfield on the use of the cards several times.
"Issues related to lack of receipts and other information to establish if expenditure was genuinely related to Essex County Council," the report said.
Officers had every expectation that Lord Hanningfield would take heed of advice, the report claims.
However, the report said he ignored their advice.
The report said: "The work to assist the police has required significant officer and member time and has also cost the authority in terms of reputational damage.
"The council is now reviewing the transactions in detail to determine what, if any, further civil action should be taken if Lord Hanningfield fails to discuss the matter further with us."
Last month police and the Crown Prosecution Service decided there was insufficient evidence to make a criminal case against the peer over his expenses claims during his time as leader of Essex County Council and closed their files.